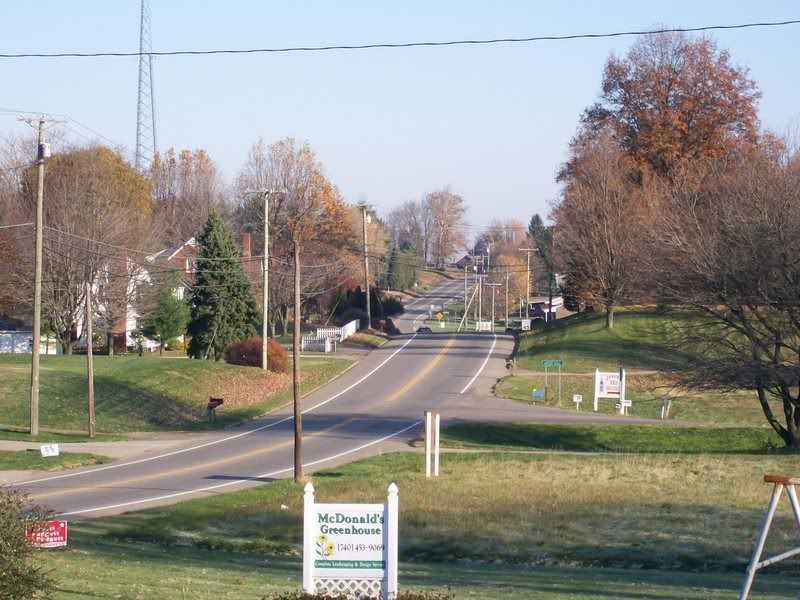 This is a picture of a small town in Ohio called
Zanesville
. The only thing I know from this town is a gas station right off of route 70. I took this picture right after I filled up my car on the way to NJ. If you click on the link I provided for Zanesville you will learn that Dan Patrick is from this town. There was also like 110 violent crimes committed in 2003 (I'm sure most of them were alcohol related).
I spend approximately 100 dollars a year in Zanesville buying gas, sunglasses, beef jerky and coffee. Also, I spend up to an hour and 20 minutes in Zanesville annually, so that makes me kind of like an authority on all that is Zanesville.
It looks like a nice wholesome place just judging from this snap shot. The only other thing a person like me has to use as a barometer when gauging a town such as Zanesville is the condition of the bathroom that I use when I'm passing through. There's a sign in the bathroom that says, "Please notify attendant if the bathroom needs attention". I guess I could say something to the attendant like "excuse me, the toilet seat is covered with urine, pubic hair and other stuff. It could definitely use some "attention". What are ya'all a bunch of fucking animals in Zanesville or something? Might I suggest you people try following the example of other small towns in America like Livingston NJ for example. The public bathrooms in that town are so exquisitely clean that you could eat your dinner off of the toilet seats." However, I'm not one of those assholes you see all to often, that screams at people who make minimum wage unless they fuck up and put onions on my burgers at those hamburger joints you see all over the country.
Still, I'm not going to judge the entire population (roughly 25,000) of Zanesville or the entire state of Ohio because one little bathroom is out of order. As a matter of fact it's probably all of the assholes that come from places like Louisville Kentucky that are the true perpetrators of these crimes against hygiene, except for me obviously.
To learn about other small towns in America click on this
link
provided for you by Captain Corky. I've got lots of fun storries about that town.