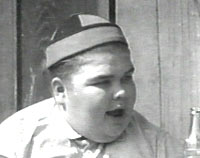 This post was inspired by Doug.
My friend, Kim Jong Ramone Aquaman Lou the German, just returned from a week vacation in Maui. Lou really is a professional groomsman. He has been in countless weddings over the past 10 years.
Have you ever seen that show Made, on one of those MTV channels? A person writes in to MTV and tells them about their dream and if MTV likes it, they do a show about it. This is basically what Lou has done with himself over the past couple of years.
For most of Lou's life he looked more like Joe Cobb then Zack. On second thought, Lou has actually been working on this whole process a lot longer then a couple of years. I just didn't realize that becoming Zack Morris was on his life list, which he promised me he was going to publish, after we talked this afternoon.
In his first character profile we learned that Lou has an affinity for water. When he is not soaking in it, swimming in it, or rinsing himself off twice, daily, he's drinking it and dreaming about it. If you ever happen to be in a gym and notice a guy with a shark tooth tattooed on his leg, that's Lou. Please don't tell Lou's dad Mike that he has a tattoo.
We know that Lou went to college in Florida and now we all know he has the shark tooth. A couple of years after getting the shark tooth, he started making beauty appointments with my grandmother every other Tuesday to frost his hair. So now he's got the tattoo, the frosted hair, the college by the surf, and the shell necklace he won on the boardwalk.
Flash forward 8 to 10 years Lou went to the gym and dropped all of his fat and gave it to Corky. Thanks Lou. That brings us back to Maui. He told me he went on a helicopter ride, and said it was no big deal. Then he told me he went surfing and was able to catch a couple of waves. Way to go big Kalouna.
To give Lou a little help with his life list, that's three you can check off Lou. Surf, ink, helicopter ride. Don't forget driving the Cat and being a Teamster. I look forward to reading the list. Lou, please notify us here at the log when you have the list completed and congradulations on becoming Zack.
Click here: Kim Jong Ramone