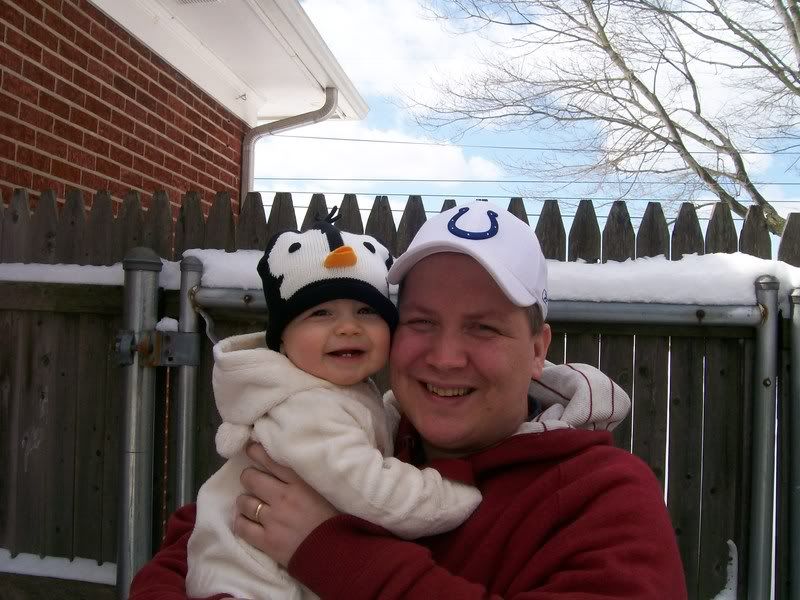 It snowed a 11 inches between Friday and Saturday here in KY. Please don't let the big shit
eatin' grins in this photo fool you... We hate fucking snow and everything about it.
First of all, snow is white. The gutters and trim on my house are also white and so are the clouds and most of my hat. All that white is very tacky. And do I really need to see blinding white everywhere I go? The worst thing about the color of snow is when I look out the window at it and then try to look at my TV, I start seeing spots all over the place and my eyes have trouble adjusting. Often I have to ask my wife what I missed because of my temporary blindness.
Secondly, it's wet. If I wanted wet I would go swimming or take a shower. I don't need wet, and I especially hate it when snow gets between my socks and my shoes. That's the absolute worst and I've never heard anybody talk about what an incredible sensation that is... I'm not really a big glove guy so snowballs, and igloos are out of the question.
Third of all, snow is really cold. I don't know if you're aware of this or not, but it can't snow unless it freezing. This means that I have to dress in layers to stay warm if I go outside. As a nudist I find this to be very destructive to the nature of my life style.
Fourth of all, I hate the way snow impacts the news. I can look outside my window to see that it's fucking snowing! I don't need to see the weatherman and all the idiot news broadcasters tell me that I should stay inside while it's snowing. Plus, with all the coverage that snow gets on these local broadcasts, I don't get my daily fix of doom and gloom. How many people were gunned down today? What catastrophic event wiped out a third world country? How bad is the economy? When does the Apocalypse start and do I still have time to accept Jesus Christ as my personal Lord and Saviour?
Finally, there's Thunder Snow. Instead of one inch or a half of inch falling per hour we get 3 inches falling per hour. It's absolute madness... Well, unfortunately we just had to deal with spending a weekend trapped inside our home with nothing to do, but eat like hogs, watch TV and movies, and spend time with our son... atleast Max finally got to wear that polar bear jumpsuit I bought for him before he was born.